Answers to your most frequently asked questions
Frequently Asked Questions
All Questions
How much does a Skinny Guy Camper (SGC) weigh?
---
First of all, rude. Haha. It depends on the options that you choose, but somewhere in the range of 800-1,050 pounds. Your Skinny Guy will be only cab high and will have a negligible effect on your truck's fuel efficiency. Our design also allows you access to the space in your truck bed to store other gear you might want to take on your adventures.
---
Are there color options?
---
Choose from one of four sweet color options for your exterior finish.
---
How many people does an SGC sleep?
---
An SGC will comfortably sleep 2 adults. Get creative if you need to bring more adventure buddies. You can put the ones you don't like as much (or the kids) in a tent on the ground.
---
How do I put it on my truck?
---
We have a patent-pending jack system. The jacks will help you get your Skinny Guy at the right height to back your truck into the correct position. You can slowly lower the Skinny Guy onto your truck bed. You can find some cool how-to videos of this on our social media channels. Plus, the dealer you choose for delivery will help teach you how to take your Skinny Guy on and off. Loading SGC onto truck: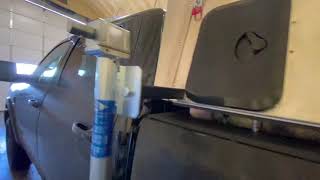 Taking SGC off of truck: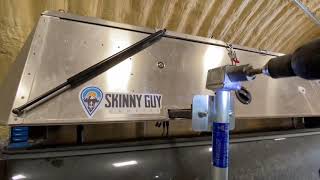 ---
How do I store it?
---
You can store your Skinny Guy in your garage (if you have room). In the future, we'll have a couple of different storage solutions to make it even easier to store your Skinny Guy Camper.
---
With a SGC installed, is there still room in the truck bed for other things?
---
Yes! Your Skinny Guy will sit on top of the walls of your truck bed and our patent-pending stilt mounting brackets, so your bed and gate will function like normal. Convenient? Heck yes. Load up your gear and go explore!
---
When will my SGC be available?
---
Model 6.5 reservations will begin being filled this year and early 2022. If you order one soon, depending on demand, you should receive your Skinny in a couple of months. Our other models are still in the development and testing phase, and we hope to have them ready for delivery by late 2022. A reservation can be made for any of our models with a one-time, fully refundable deposit of $1,000. The number of reservations we get for each model listed below, will help us prioritize the development, so your best bet is to reserve yours now! Model 4.5 – compatible with Rivian® R1T, Model 5.0 – compatible with Toyota® Tacoma (and other similar-sized trucks), Model 5.0GLR – compatible with Jeep® Gladiator (with sidewalls to matching vertical wall profile) Model 5.5 – compatible with Toyota® Tundra Crewmax (and any truck with 5.5' bed) Model 8.0 – compatible with any truck with an 8' bed,
---
How do I pick up my SGC?
---
Lift with your legs. (j/k). Once your Skinny Guy is ready to head into production, we will reach out and find out which of our awesome dealers you would like to visit for delivery. They will be happy to serve you and can provide financing if needed.
---
Will it fit my vehicle?
---
We have six different models in development that correspond with the most common truck bed lengths (in feet) – 4.5, 5, 5.5, 5 Gladiator, 6.5, and 8ft. If you happen to have something custom, it would be a good idea to check with us first.
---
What is the warranty?
---
If the problem started with you saying, "Hold my beer," it's probably not covered.
---
How much does a SGC cost?
---
Good question. Prices range from $16K to $38K depending on the options you choose, but we assure your adventures your Skinny Guy will take you on are priceless.
---
Is financing available?
---
Of course. Mo 'money, 'mo problems, are we right? We ask for a $1,000 deposit. Once your Skinny Guy is ready to head into production, we will check back with you and will ask for 20% of the total price of your wicked cool camper. At this point, you can also select your pickup location by choosing one of our awesome dealers nationwide. The dealership will help with delivery, installation, and financing (if needed) of your product.
---
How does the reservation system work?
---
Place your reservation in 3 easy steps: 1. Click on the "Reserve Your Camper" button at the top of the page to get started. (This will take you to the reservations form.) 2. Select your model, exterior finish, and trim level. ( When you select a finish or trim level, the details will appear on the form along with the price of your selections.) 3. Complete the reservation form and place a $1,000 deposit to secure your place in line. Before your Skinny Guy goes into production, a Skinny Guy team member will reach out to to you to review and confirm your selections, discuss delivery options, and arrange for your 20% deposit (of total purchase price). Your $1,000 initial deposit will be applied. If you'd like to finance your purchase, we'll connect you with one of our awesome dealers. If you should change your mind before your Skinny Guy heads to production, your initial $1,000 deposit is 100% refundable.
---
What if I have more questions?
---
Pop on over to the Contact Us page to get in touch. You can also give us a call, send an email, or click the Let's Chat button on our website..
---
---